Welcome
A Warm Welcome from the ReRighting Education Team at San Francisco State University!
Our mission is to engage in projects, scholarship, dialogue and action in an effort to shift the educational paradigm toward one of EQUITY, ACCESS, and TRANSFORMATION.
Our Vision:
A field of Education that reflects, centers, and elevates the humanity and the work of students and communities on the margins
A community of academics, students, educators, and other practitioners that work in solidarity with the most impacted communities to transform the paradigms of colonialism and dispossession that define the history of this country
A meaningful and impactful academic work that honors abundant and invaluable contributions of diversity, diverse individuals and communities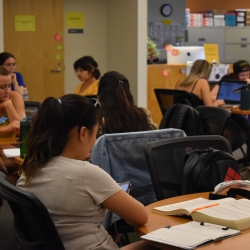 What We Do:
Engage in research projects and scholarly activities
Engage in service to ELSIT Department, Graduate College of Education, San Francisco State University and community at-large
Organize students/activists across disciplines to provide access to holistic support to students with intersecting and unique needs
Celebrate and highlight the incredible work being done by SFSU students and alumni to further the mission of equity, access, and transformation
Irina S. Okhremtchouk, Ph.D. is the faculty who directs research, projects and oversees efforts of ReRighting Education team. Her research interests are focused on examining structural inequalities within schools as well as between administrative and school governance structures in relation to the students they serve.